Hi everyone,
A while back I was approached by Brenda of
a Vintage Journey
with the question if I wanted to be a Guest Designer. Well, I didn'tt have to think about it at all! Of course I do! What an incredible honor! I was thrilled and very excited! This time the challenge is hosted by Annie and the theme is "Dies and Distress". Two of my favorites in crafting! About two months back I went to Barcelona for a couple of days as a citytrip. What a beautiful city that anyway and I wanted to make a little something to that gave an impression of my trip (I also will make a full album with lots of photos in the future :)). And the new Folios from Tim Holtz are ideally suited for it!
Steampunk is so cool and I love it, and that became the theme for my folio. To get lots of texture a bit of a grungy look I covered the outside of the folio with tissue paper. I wrinkled it and adhered with Multi Medium Matte.
After it was completely dry, I painted the inside and outside with Tan from Studio. The paint is old and got a bit thick, so I diluted with water, which is better to do in this kinds of projects anyway. So the creases will remain and you don't need as much paint to paint into all the creases.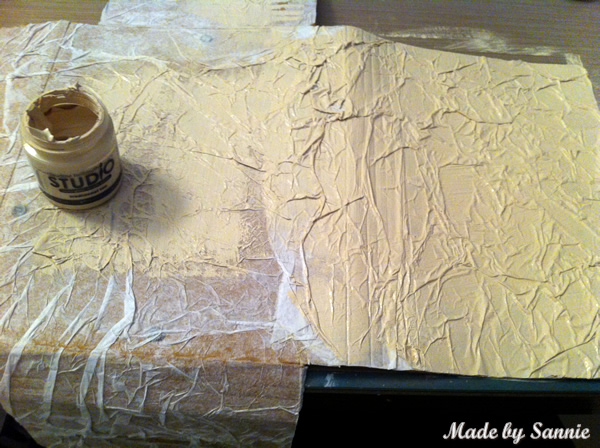 To give it an aging effect I took a dry brush and dabbed some Espresso Paint Dabber on my craft sheet and started to apply the paint. This is a patient job (which is very difficult for me;)), and it's important that you don't get too much paint on the brush.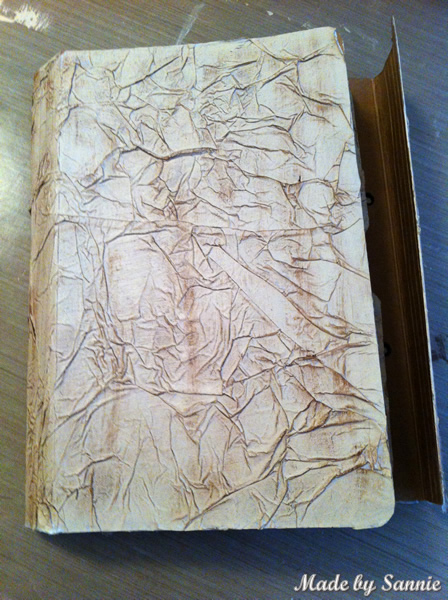 The Gadget Gears and Mini Gears I cut out of recycled cardboard and then painted black. Once the paint was dry, I sanded them with the Sanding Grip. The sanded pieces I've inked with Walnut Stain or Rusty Hinge Distress Ink. Love that look! So simple and so cool!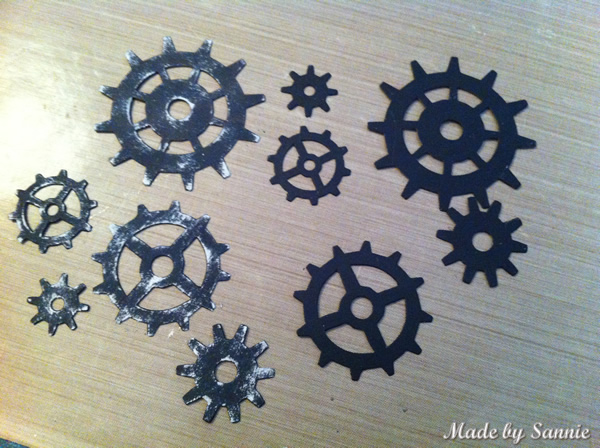 Uhh well yes... and then I stopped taking pictures... It's so difficult for me to take pictures of every step. I'm really involved in the creative process, that I forget to take pictures along the way. But I will describe what I did next.
With some stamps I made the background more interesting. Since the surface has a lot of texture, I didn't put the stamps onto an acrylic block but just stamped with them by hand. So I get a better impression.
The edges are done with some Espresso Paint Dabber. The Weathered Clock I painted brown and while the paint was still wet in a few places, I sprinkled some Rust Embossing Powder over it. Quickly melted it with the heating tool. One of my favorites stamps is this balloon! I left t white so it gives a nice contrast.
Then the layering it was time to get to the layering of the elements and use some embellishments here and there.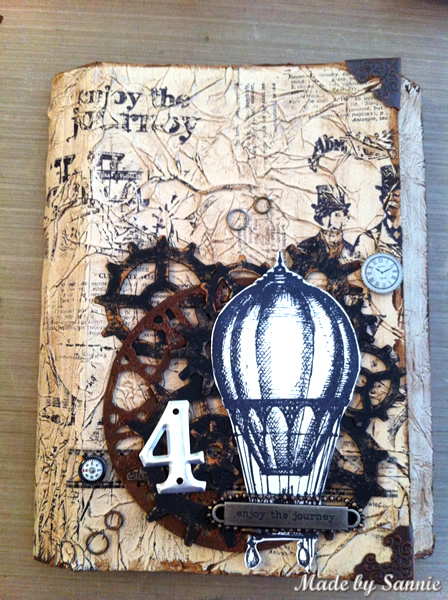 The inside, I also painted with the Tan paint and stamped it ​​with different stamps. In the folio you will get an insert that you can use however you please. I saw a video when these were released and they advised to adhere the insert at the end. Now I understand why...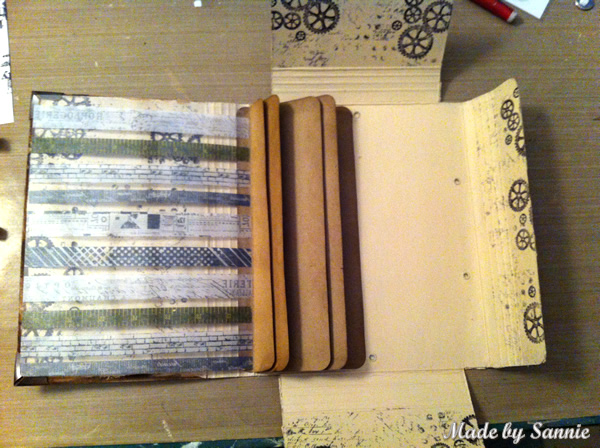 I like transparencies very much and I love washi tape too. Why not put them both together? This way the content is also protected.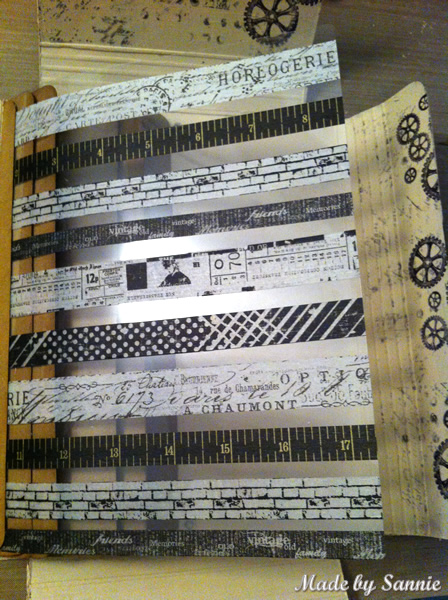 Below are some pictures of the finished piece.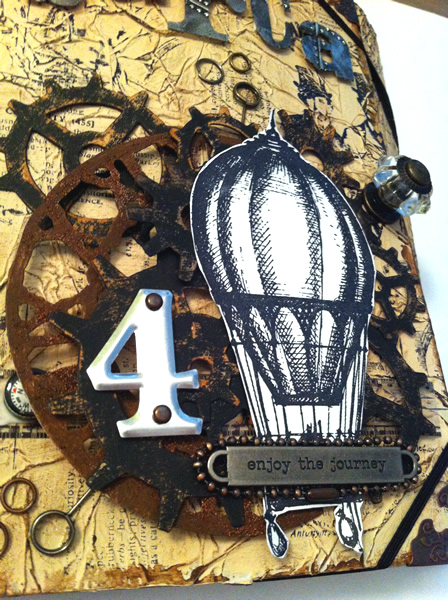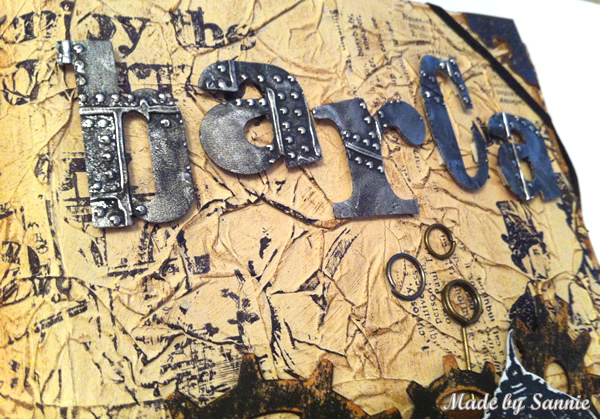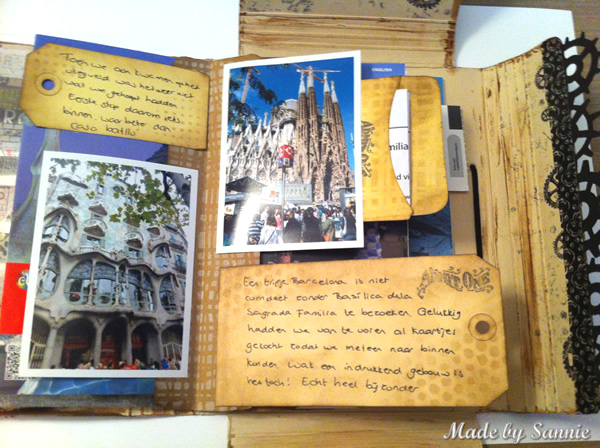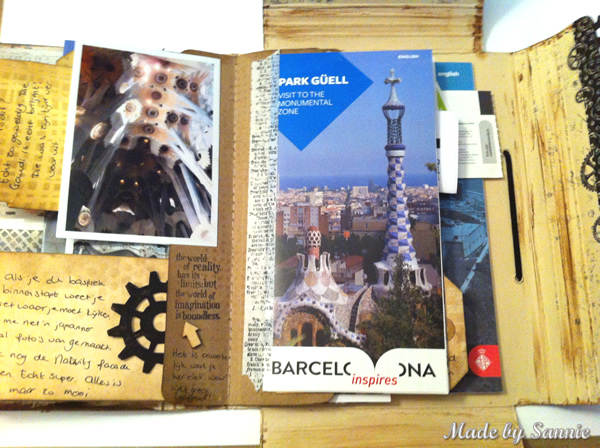 I hope you liked tutorial, although I didn't have a picture of each step. I want to thank everyone at a Vintage Journey for the invitation to be a Guest Designer! I had a blast!
Thank you for stopping by! Love to see you next time!
Hugs,
Sandra