Hi bloggies,
Today it is time for a new challenge. Yesterday I visited the blog of
Shelly
, who makes incredable and beautiful things (the can of sardines is so cool!). On
her blog I saw that there was a super fun challenge at
Inspiration Journal
. And of course I'm going to enter! This time it's a color theme. And I heard about
Use it Tuesday
challenge, where they have the same color challenge! Why not combine the two? I knew right away what I wanted to make! I want a box for my loose scraps I have lying around. So I'll make one in those colors.
I do not own a scor-pal (I'm deeply ashamed) and I thought it was a good idea to buy one today. When I came to the scrap book store, they unfortunately were not in stock. So I had to think of something else to score the lines of the box. In Illustrator I drew the box I wanted to create so I knew what the measurements had to be. After I measured and marked the black sheet of cardstock, I made score lines with a ruler and a hobby knife. You have to use what you've got...
Then it was time to go make the four sides. I had orange flowers laying around which I thought I never gonna use, the same voor the black feather, but for Use it Tuesday I had to use something I forgot about or rearly use.
For this box, I tried a new method, namely the cutting out a stamped stamp. I'm not good at neatly cutting out images, so I used the print-and-cut method, but now it's the stamp-and-cut method:). I have made pictures of it and will make the tutorial in a couple of days.
Before I go on for another hour, this is the result: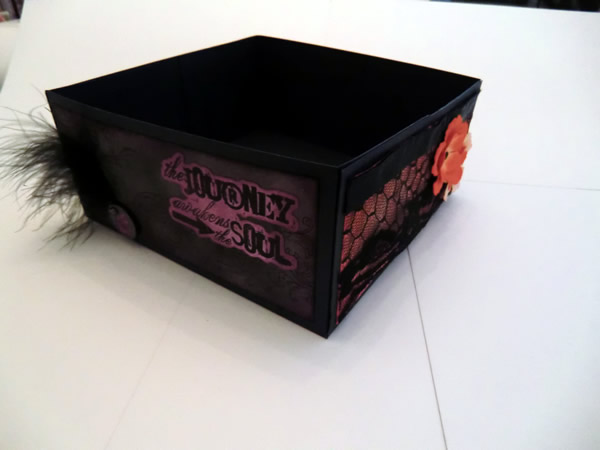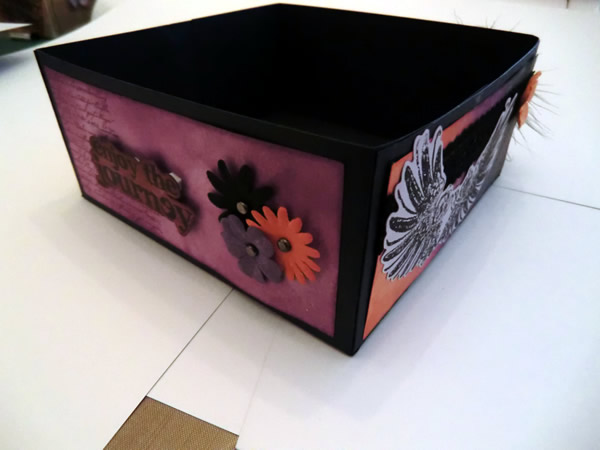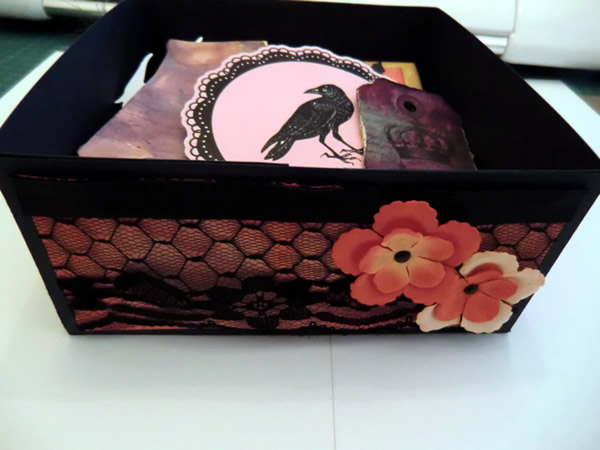 The supplies:
Distress Ink: milled lavender, dusty concord, seedless preserves, black soot, ripe persimmon
Perfect pearls: Pewter
Paper flowers
Stamps: all from Tim Holtz
Lace and ribbon
Feather and label
Split pins
Thanks for visiting my blog!
Sandra