Hi everyone!
We already are half way through the 12 tags of Christmas! I can't believe how much I've learned already. Although it takes all of my free time, I'm so happy I'm joining in! And today I've got a nice blinkie button tp put on my blog from the 12 tags! How cool is that! Tim has it on his blog! So if you want to get it also, that's were you can grab it.
Today's techniques are about using metal foil and paint dabbers. Pfeww, at least I have one of those two, the paint dabbers to be precise. But not Christmas like colors. I used tin foil instead of the metal foil. I also didn't have any Christmas-related embossing folders (only the snowflake one), so I decided to just go for the technique. But when it was finished, I also wanted to make a Chrismas / winter tag. Then I found some silver packaging which I could use instead of metal or tin foil! The packaging wasn't big enough for a #8 tag, but still big enough to make a tag out of it. Because the silver packaging was made out of paper with a silve coating, the paint wasn't easy to brush off. I spend an hour or so on it! But I'm pleased with the result, too bad that I can't make a great picture of it. The background is done with snow cap with a little tumbled glass over it for the clear embossing powder and also for the effect. But never the less, I like the last tag the most. Which one do you like the best? Please let me know!
The two tags: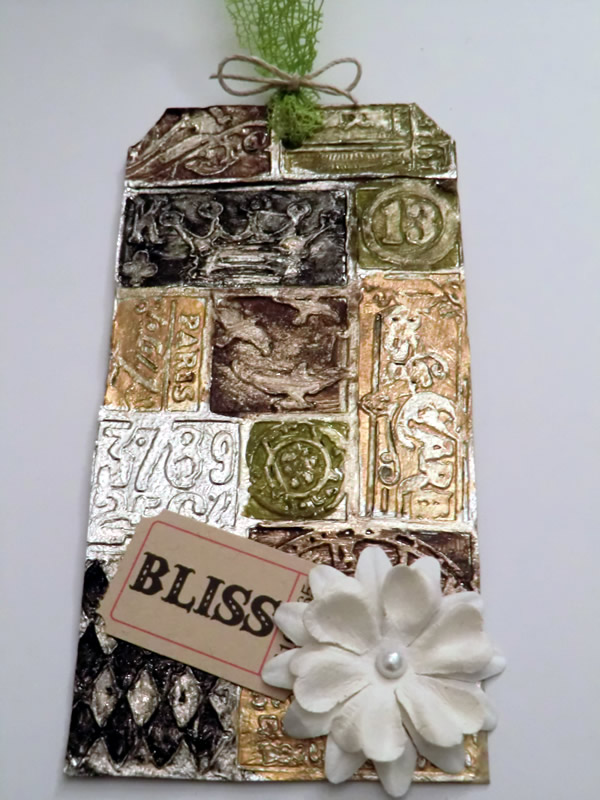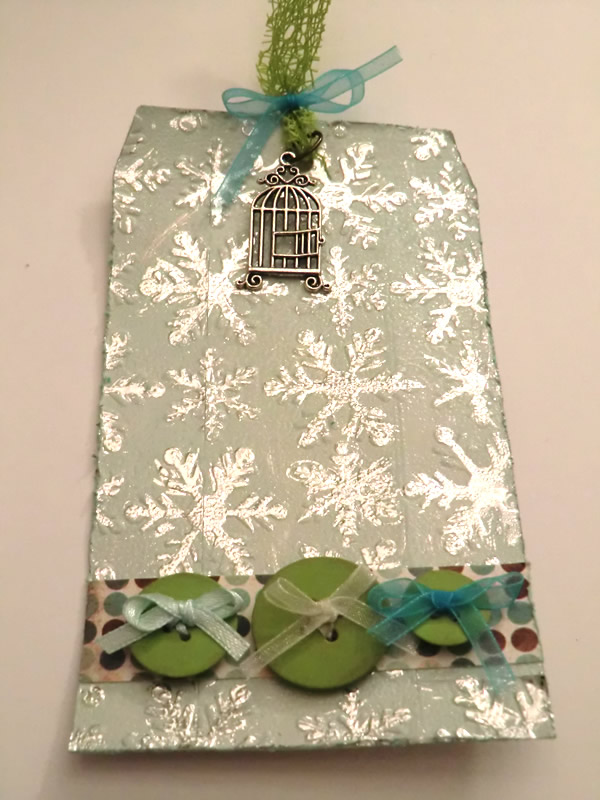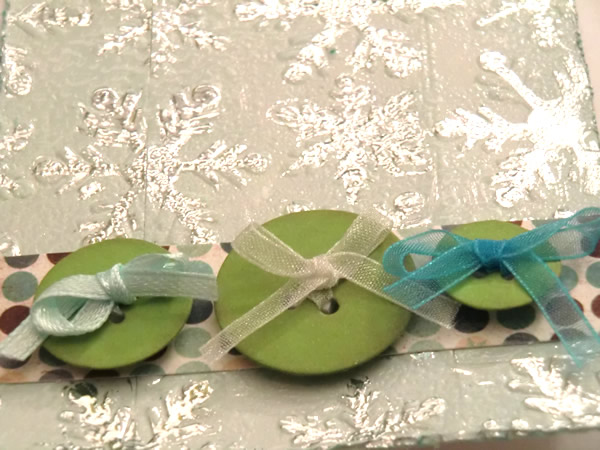 The materials for the two tags:
Paint Dabber: lettuce, pitch black, espresso, snow cap, gold
Distress Ink: walnut stain, tumbled glass, frayed burlap, shabby shutters
Flowers
Ticket
Embossing folders
Embossing Powder: Clear
Tim foil
Charm
Ribbon
Mesh
Button die: memorybox
Pearl
Thanks so much for stopping by. Hope to see you tomorrow!
Sandra