Hi everyone,
Today I found some time to make the July tag for
the 12 tags of 2012
. Unfortunately I don't have compressed air at my disposal and I seriously don't know where I could get some. But luckily I saw that others used a straw instead to create a kind of simular effect. And a straw I do have!
I'm also joining in the fun at
Frilly and Funkie
and when I saw that the challenge was altered metal, I knew that I wanted to use some foil tape. This time I've used a ATC instead of a tag.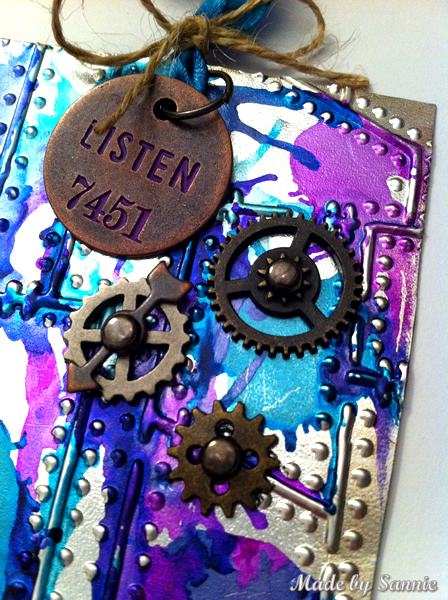 First I stuck the foil tape on a piece of cardstock and then embossed it. Then it was time for some fun with the alcohol ink and straw. I think for this kind of surface it is better to use a straw instead of the compressed air. Especially on such a small area. I colored the ribbon with the alcohol inks to make it very bright. It really blends well together. Hope it isn't a fire hazard or anything...
Thank you for stopping by! Love to see you next time!
Hugs,
Sandra