Hello everyone,
It's day two of my smashbook project. The theme of today is "the beginning". About 2.5 years ago I started being creative. Actually it all started with my pet rat, Wall-e. You can get very nice hammocks and houses for rats, but they're a bit pricey and it didn't seemed so difficult to make it yourself. So I decided to give it a go. I didn't have a sewing machine, but my mother did. I was happy that she let me use her sewing machine and learned me the basics. After some time alot of practice I got the taste for it. Quickly Wall-e's cage was filled with homemade hammocks and houses. He was very happy with all of them and loved every new addition to his cage.
Unfortunately Wall-e passed away a year ago. But he's always on my mind and I'm very grateful for his influence on me.
Okay, back to the order of the day! On the left page, the stamp in the background is from Tim Holtz, the photos I printed with my inktjet printer on plain paper and the sides are decorated with distress ink, the same for the post-it.
I made ​​my own rub-ons, the text "Remember" and "Always in my heart". I've made them by printing the text on sheets with my inkjet printer. And rubbed them on the pages. The text must be mirrored.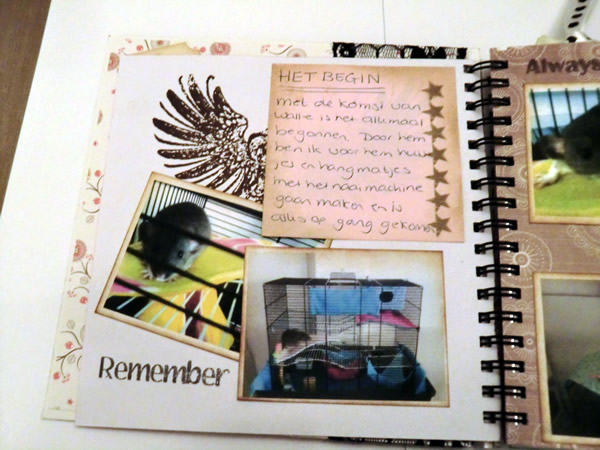 On the right page in the top left corner, I made a swirl that I cut out with my eCraft machine and I used distress stains and ink on it. Then I put the crown on top. The crown is a stamp from Tim Holtz.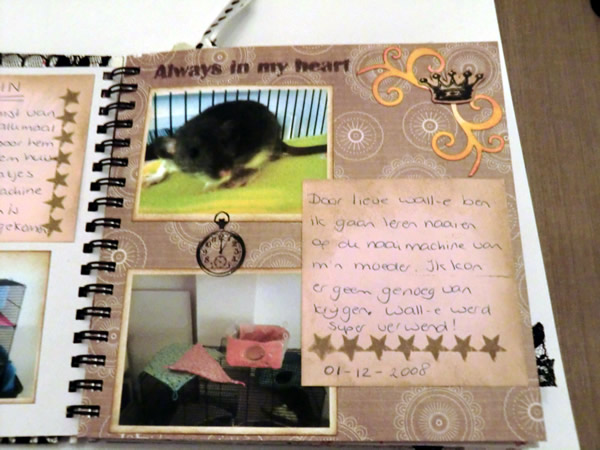 Tomorrow a new page!
Until tomorrow.
Sandra