Hi everyone!
Today's theme is Cricut. Because of Lein I learned about the Cricut. She had the first Cricut. She was so sweet to lend it to me. We had a crafty afternoon and the same afternoon I had SCAL (Sure Cuts a Lot) installed on my laptop and the Cricut was also made SCAL ready. It was a bit scary because we had read messages about that the Cricut after updating the firmware wouldn't work anymore. Luckily everything went well and we could play with SCAL. After some time I have purchased the Cricut Expression and was very pleased. Later I discovered MTC (Make the Cut) and I was completely happy. Too bad that ProvoCraft is so childish about the use of SCAL and MTC with the Cricut, that's one of the reasons why I switched to the eCraft.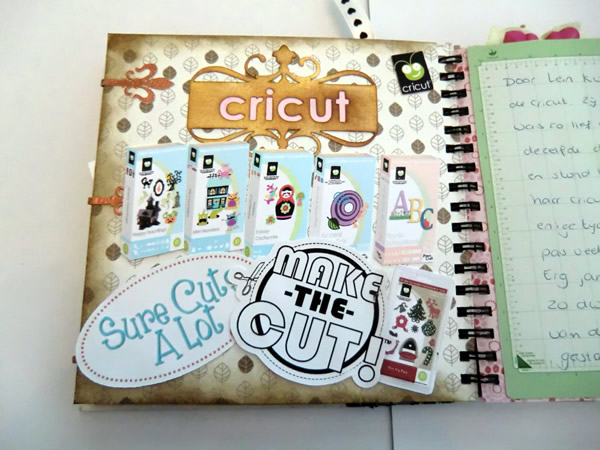 The edges on the left page, I used Distress Ink on. I never really had many cartridges because with SCAL and MTC I could make anything I wanted. I always was fiddling with the cartridges. In my paper trash I found an old packaging with a Cricut logo on it. I cut it out and stuck it on the page.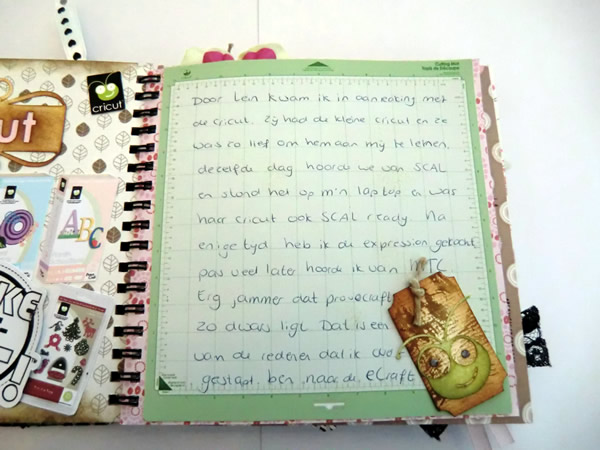 On the right, I used as background to the Cricut cutting mat, great for journaling because of the lines.
Everything in this smashbook is cut out with eCraft, how ironic! LOL.
Tomorrow the theme is SannieLein. You see what that is tomorrow!
See you tomorrow!
Sandra