Hello everyone,
It's day 4 of the smashbook adventure. Yesterday I revealed the theme of today : Bags!
I'd never thought I would make anything else than stuff for Wall-E. When I saw a homemade bag in a great fabric store I bought the pattern after some doubt. I wasn't sure I could pull it off. The same evening I finished the bag! Whoohoo!! I liked it very much and I was foolish proud of myself, haha. Soon I got some ideas to expand the bag with pockets and stuff. Eventually I got a great idea (if I do say so myself) by making the front flaps and shoulder band changeable. So I just need a basic bag and by making a new front flap and a maybe a shoulder band I've got a new bag! The front flaps of the bag have velcro on them as well as the inside of the basic bag. So they're easy to change.
On the left, I have some of my front flaps.I've got about 35 flaps...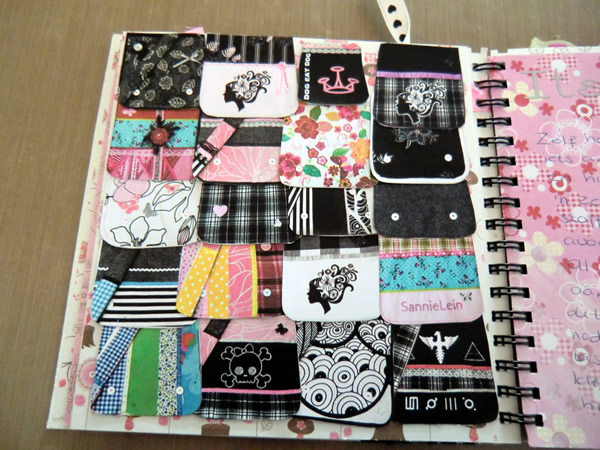 I used distress stain picket fence on the corners. The letters I cut out of vinyl. It was a tricky job to get them on the paper, because they're so thin. It was was not so smart to write on such a busy background. The bags on the right page are the same ones, and a different kind than de basic bag with changeable flaps :).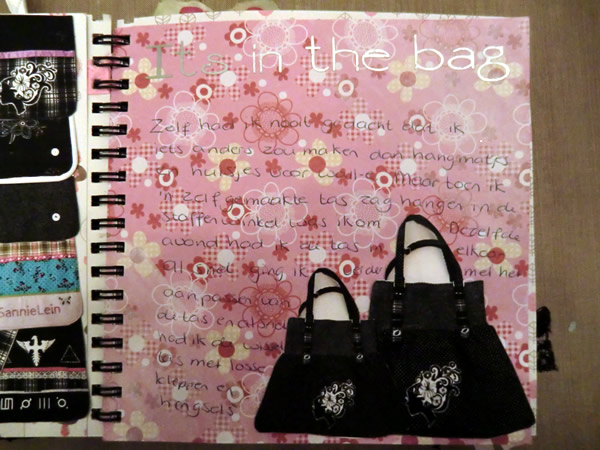 Tomorrow two themes!
Until tomorrow.
Sandra