Hi everyone!
Some time ago I visit the site
paper-castle.com
and I saw a lot of great tutorials. Then I saw a really cool
foam board cabinet
. I didn't realize that Heather made the cabinet herself, I thought the post was about the drawers... duhhh. But a few days later she posted the
tutorial
for it. And I immediately went to work. But unfortunately I'm always fighting with my glue gun. It leaks like crazy, and the glue dries too quickly before I have put things together. Such a drama. Eventually it looked alright, but it was certainly not perfect. After some tips from Heather, I gave it another go. This one is a bit more successful then the first one, but I still fought with my glue gun!
Here is a short description of the project. With emphasis on short, because the extensive tutorial can be found on the website of paper-castle.com!
I wanted to have a cabinet for my distress inkpads (DI). In the past I made a
box
for my DI, but back then I had only 12. And since I've bought all the distress inks including the limited edition (s), now is the moment to make something for storage. And I chose this fabulous foam board cabinet.
First I determined the size of the compartments. I used Adobe Illustrator to process these sizes and taken into account the thickness of the foam board. In scale, I made all the parts and fortunately they all fit on a 50 x 70 cm piece of foam board. Then I determined the indentations. I used Illustrator for this part as well. I'm not a mathematician;).
Then I cut everything out. I think I have an other type of foam board then Heather, because I easily cut through it in one single cut. The blade does go dull after a little while. After everything was cut out, it was time for a bit of color. Here the distress stains walnut stain came in handy. For backgrounds the stains are incredible. I did also the edges with stains, but they stay wet for a very long time. Probably because foam isn't porous. I did it also on the second cabinet, because it looks so nice. I have to be carefull with handeling it for a while.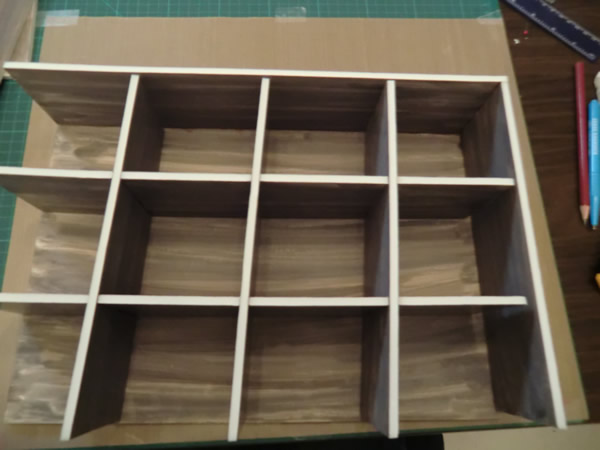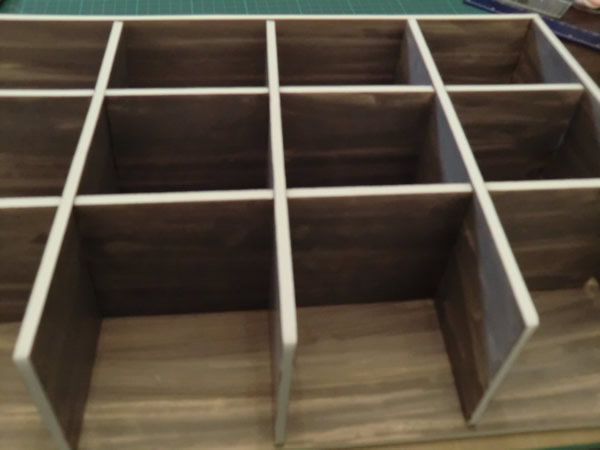 Then it was time to assemble it. I took my best friend (not!!) the glue gun, and I managed to glue the edges together in time before the glue was dry, but that didn't work with the backside of the cabinet :(.I do have a very cheap glue gun, so that maybe has something to do with it. Luckily I also put multi medium on the edges of the dividers.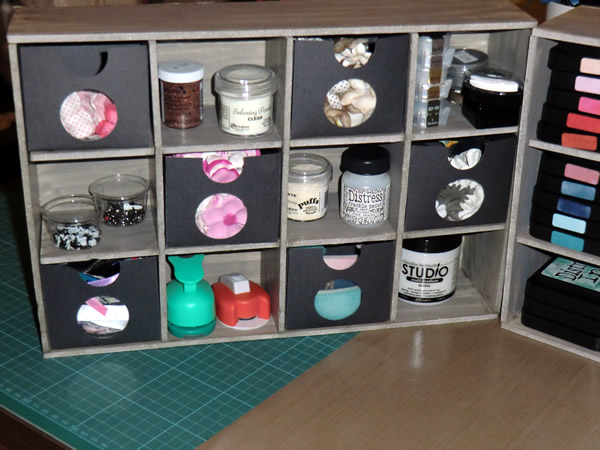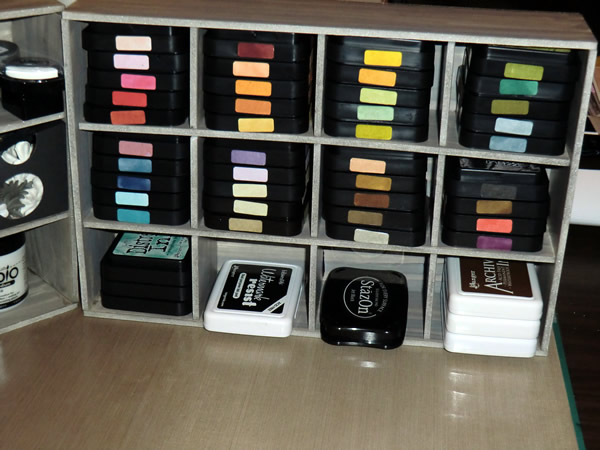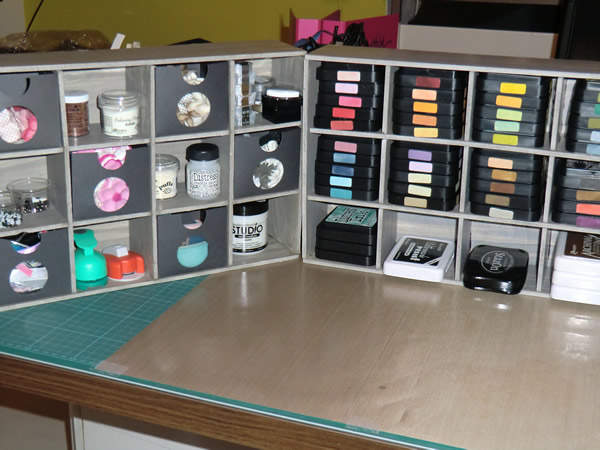 Now that I have two cabinets, I decided to use one for embellishments. I made drawers with a peephole in it. I kept them very simple. Maybe in the future I'll pimp them up.
Thanks for stopping by.
Sandra